Wayfair Inc. is a furniture and home-goods e-commerce company based in the United States. The company was created in 2002 and was previously known as CSN Stores. Wayfair sells over 14 million items procured from different vendors across the world through its website.
Wayfair Candle Wall Sconces

Despite the fact the company has aggregated all items methodically, the sheer volume of products that are sold online makes it difficult for shoppers to find the items of their choice easily.
To help you find the unique decorative wall candle holders easily, we have put up a list of the best wall candle holders on Wayfair. Take inspiration from the listed decorative wall candle holders to upgrade your personal space.
Wall Candle Holders on Sale
Thus, to make things easier for you, we've carefully picked the best wall candle holders on Wayfair that'll help you elevate your wall decor to the next level!
Floating Medallion Metal/Glass Wall Sconce (Set of 2)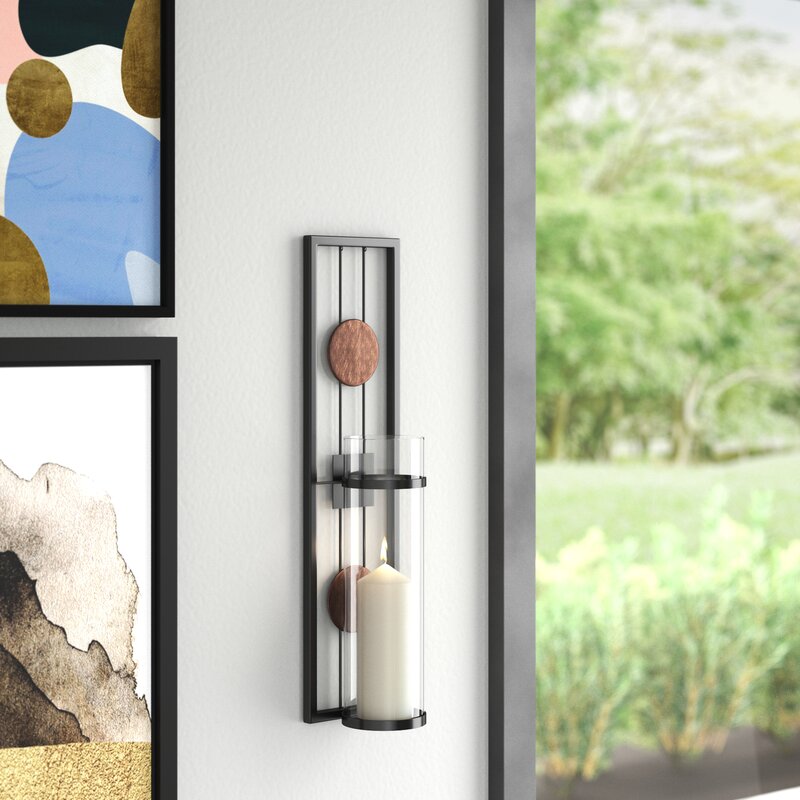 Featuring an open rectangular backplate accented by brushed gold medallions, Mercury Row's floating medallion metal/glass wall sconces are known to adapt to different architectural designs.
Constructed out of metal and glass with a blackened bronze finish, this unique wall candle holder set can easily accommodate two pillar candles, each measuring 3 inches. Standing tall at 20 inches, the pair of wall sconces will instantly create a cozy atmosphere in your living room as you light your favorite traditional or flameless LED pillar candles in them.
8″ Wall Sconce (Set of 2) from Zipcode Design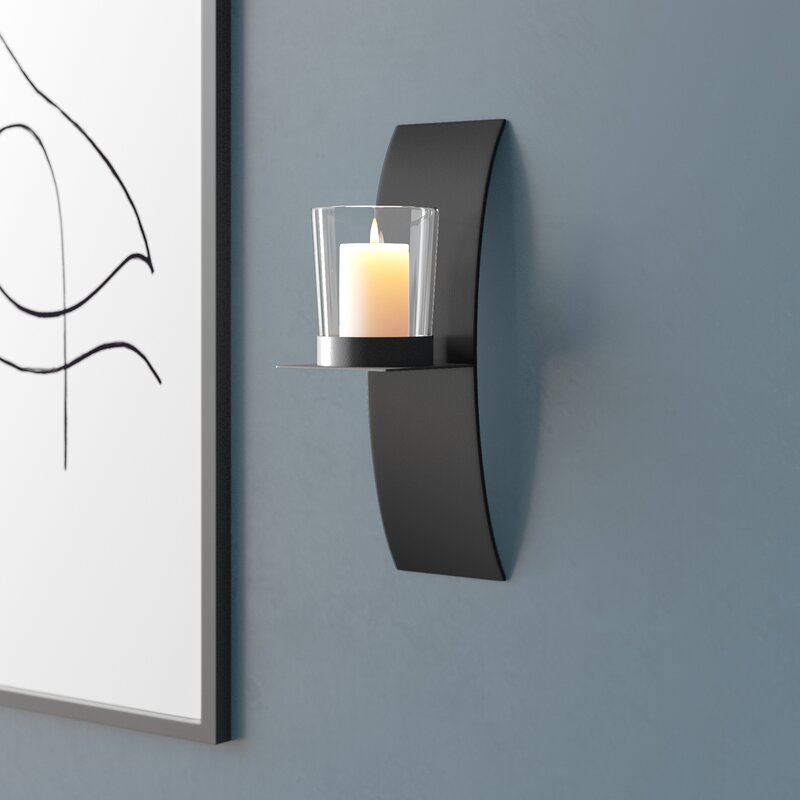 The stylish 8″ Wall Sconce (Set of 2) from Zipcode Design is a perfect choice if you are looking for low-cost contemporary candle holder designs. Made from premium quality iron, these modern wall candle holders have a curved shape and strong black finish.
A circular base and a round glass shade make the holder suitable for votive and tealight candles. Weighing just 0.49 lb, the clear glass wall candle holder set can be easily installed anywhere without the fear of falling due to weight. Whether you install them in your living room or bedroom, it will enhance the ambiance of the surroundings and attract the attention of onlookers.
4 Piece Wood Wall Sconce Set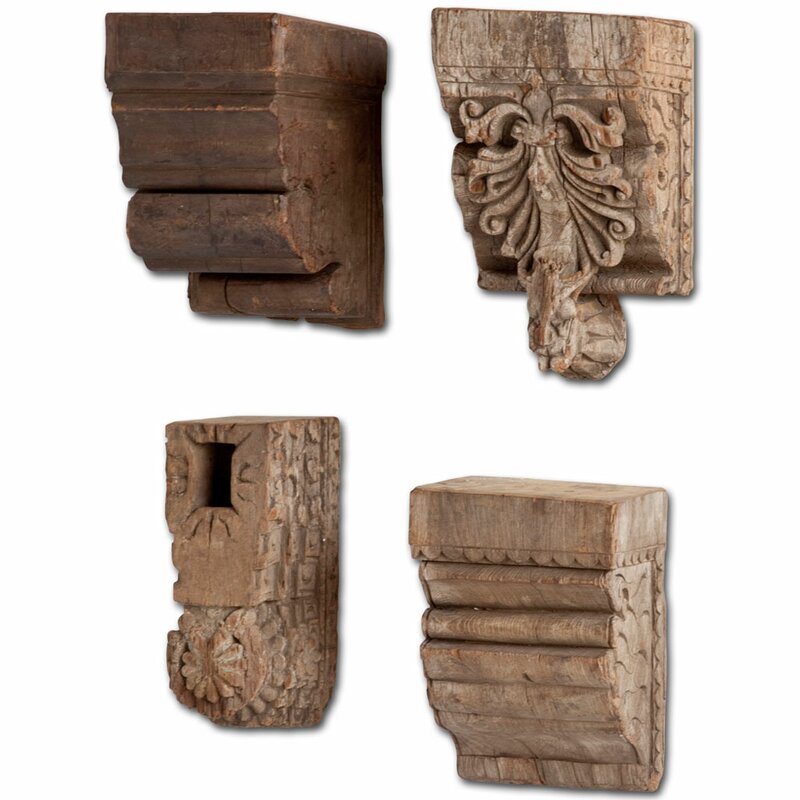 Measuring 12 inches in height, 16 inches in width, and 10 inches in diameter, this set of 4 wooden wall candle holders is made from reclaimed wood. The 4 piece wood wall sconce set features elaborate floral prints and muted wood tones to bring a bit of French country charm to any home.
Use these hand-carved wooden wall candle holders to light up your favorite spaces in the living room, bedroom, and entryway. These wooden wall sconces are also ideal for special dinners, festivals, and ceremonies.
Astoria Grand's Polyester Resin Wall Sconce (Set of 2)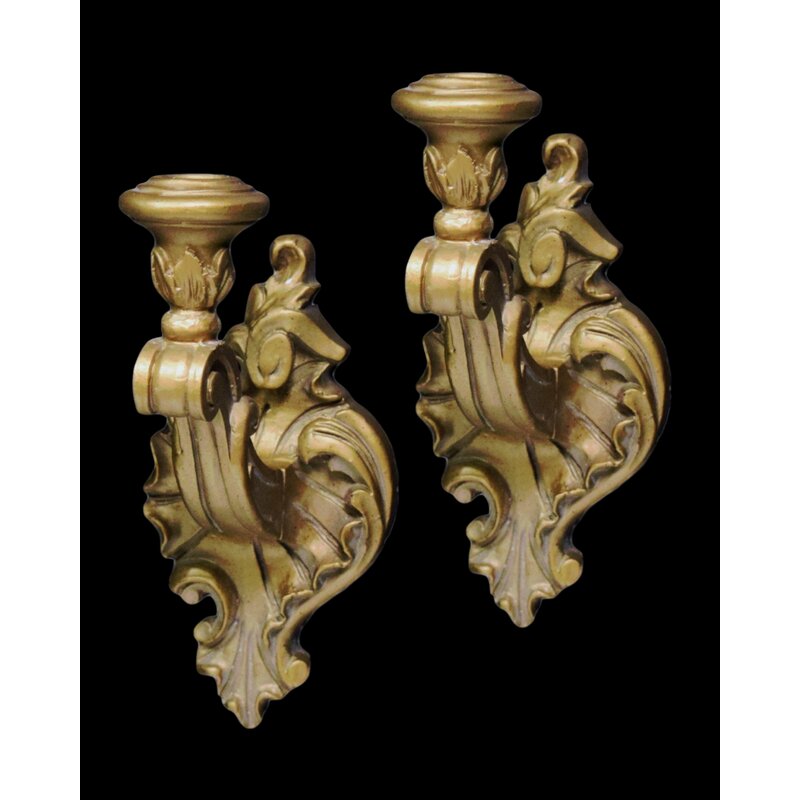 Astoria Grand's Polyester Resin Wall Sconce set contains 2 classy wall candle holders inspired by the Victorian style for those with stately taste. Made from polyresin, each stunningly beautiful wall candle holder in the set is designed to hold one votive or tealight candle. These wall candle holders featuring acanthus leaf design make for gorgeous accent pieces to any room, foyer, or dining room interior décor.
Small Glass Wall Sconce (Set of 2) by August Grove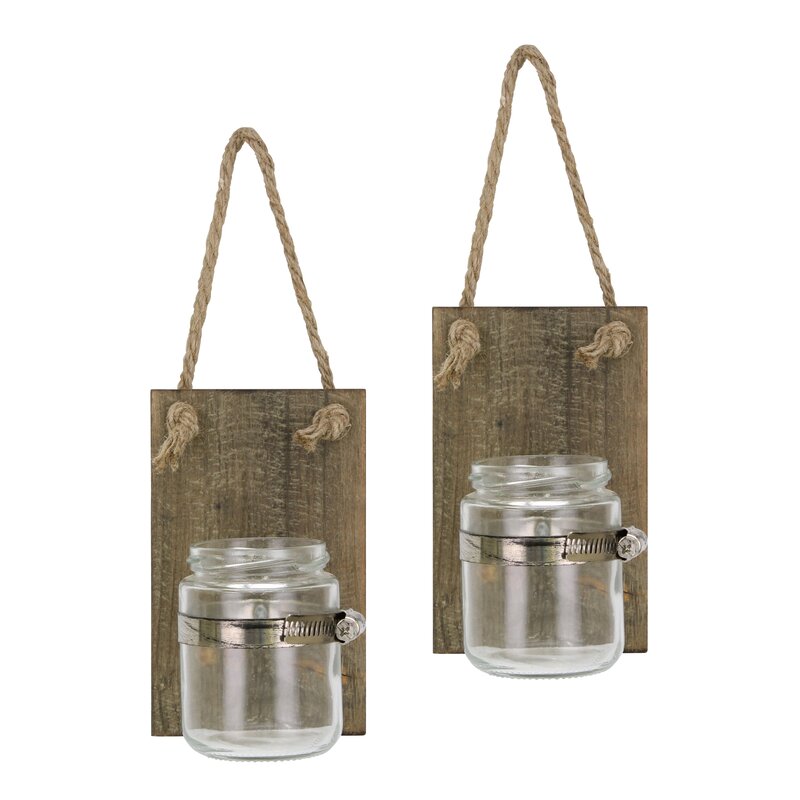 August Grove's small glass wall sconce fully justifies the statement that all good things come in small packages. This decorative wooden scone set features 2 multifunctional clear glass mason jars and natural wood finish for a rustic feel. This one-of-a-kind candle holder is not just a wall candle sconce but is a multi-purpose decorative piece designed to enhance the ambiance of any place.
The unique wall candle holder can also be used as a decorative planter or to organize office supplies, kids' toys, or bathroom cosmetics. Hang the candle holders using the attached jute rope and then light your favorite votive or tealight candles inside the mason jars to create the magical display of lights. As it is easy to carry and install these rustic wall hanging candle holders, they are also ideal for outdoor farmhouse style party decorations and for lending a bucolic touch to your home decor.
Wayfair

Candles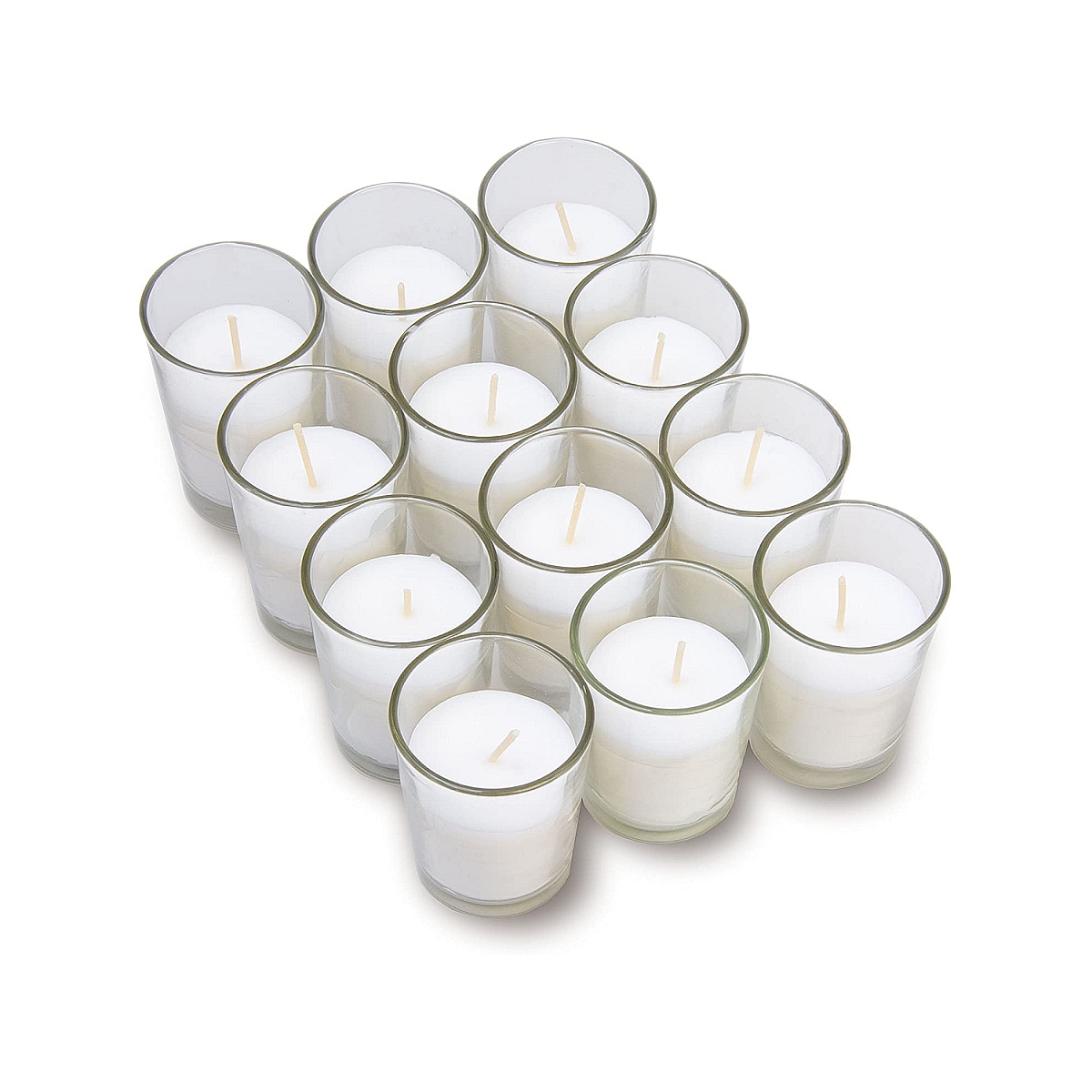 But wait! Don't forget to buy some candles and votives (e.g. voluspa, citronella, hanukkah, luminara, advent, mosquito and also yankee candles).
They are more versatile than ever, with new designs in a variety of materials, and they are perfect for your bedside, desk, or countertop.
Candle Shop Near Me
Wayfair is an online store, without the need for local shops. Find best prices at www.wayfair.com .
How to Get Promo Code
Get your discount code at Wayfair here:
Get coupons and discount offers directly to your inbox from your favorite stores!
Conclusion
Wall candle holders have emerged as an essential component of homewares as they are easy to install and adjust with any decorative theme. It's time to take inspiration from Wayfair's best wall candle holders and buy a few that catch your eye for a complete makeover of your prized place.